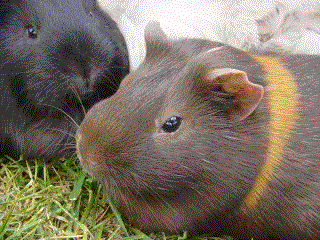 The 5th Annual Minnesota Pignic was held June 26, 2004 at the Bald Eagle/Otter Lakes Regional Park in White Bear Lake. The park was lovely, weather and attendence was good. About 60 pig loving people showed up and we had 72 guinea pigs to oohhh and aahhh over! Oh, and one rabbit!!
I brought along 5 of my "adoptables" as well - 3 of which have since been adopted. Only the Bad Boys (now named Calvin and Hobbes) remain from that group. You can read more about them in the Are These Minnesota Pigs Waiting For You? article at this web site.
This is the 6th pignic Lynn Kowalski has organized (there were 2 last year). This year Lynn had help from Allysse Henry in planning and setting up the pignic. These gals did a terrific job! There was fun and games, picture taking, great food, and lots of schmoozing about guinea pigs and admiring guinea pigs.
Linda of Kleenmama's Hay Loft (www.kmshayloft.com) kindly donated a box of lovely hay. Folks were welcome to put mounds of it in the piggy exercise pens and could even take a bag of it home with them. Jodi and her daughter Dayna helped run a Piggie Poop Game (you'll have to use your imagination on that one), and Aiden handled Piggy Spotlights - a chance for proud owners to stand up in front of everybody and talk (OK, brag) about their guinea pig. Loudly, with a microphone.
Allysse organized a raffle to help raise money for the needy little furballs at Jack Pine Guinea Pig Rescue. People loved the neat items available and ticket sales were brisk. Deb Seledic also had a table with very cool handmade items available (such as beaded jewelry and baked treats), with proceeds going to the Jack Pine rescue. I am very grateful to all the folks who helped raise money or donated money for my guinea pigs. Donations will be put to good use. My goal this year is to replace many of the cages here with larger cages, and to upgrade other cages with shiny new pans.
Artist Lea Martin (SuzyQsGifts), formerly from Minnesota but now languishing in Iowa, was unable to make it to this years pignic - but she did send some of her wonderful guinea pig collectibles up. Pig owners always enjoy browsing through Lea's lovely artwork and handmade items. This year she had some darling hand sown plush guinea pigs for sale, in a variety of colors and patterns.
I had fun chatting with friends and meeting folks I've only corresponded with through email. We even had some gals from rabbit rescue drop by to see just what a pignic was all about. They stayed for quite a while, I think they enjoyed themselves. It was very nice to meet them and hear about rabbit rescue.
Pictures of this years Pignic can be seen at: 2004MinnesotaPignic
Watch this website for news next spring regarding the 6th Annual Minnesota Pignic. I'll post information as soon as I get it, so piggy people can start making plans to attend.

---
This article and the JPGPR.com logo are © 1993-2004 Vicki Palmer Nielsen - Jack Pine Guinea Pig Rescue. No copyright is asserted herein regarding the photographs accompanying the article; copyrights, if any, of the photographs are retained by the original holders. If you would like to reproduce anything from the website, please first e-mail Vicki for permission at :